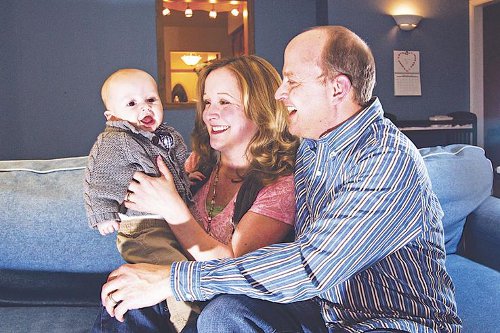 Dave and Michele Weidner play with their son Jacob at their home.
Skyler Edwards / Times staff
By Valari Hyatt, Pekin Daily Times, Posted Mar 19, 2011 @ 08:00 AM
PEKIN, Ill. —
Michele Weidner still has nightmares. She wants to talk about it — wants to get it out in the open and off of her mind. Above all, she's hoping her story will enlighten others so that changes can be made and horrors averted for others.
It's a long shot. Michele, 35, and her husband, Dave Weidner, 41, want more than anything to increase local awareness of false accusations of abuse and the impact they have on families, especially families already dealing with a real medical crisis.
"It can happen to you. It can happen to anybody. It happened to us," Michele told the Pekin Daily Times.
Michele's nightmare started the day her son, Jacob, was born on Sept. 3, 2010. It was a difficult delivery for both mother and baby, and Jacob spent 12 days in the Neonatal Intensive Care Unit at OSF St. Francis in Peoria for a variety of respiratory and cardiac issues.
Causes of those issues were never identified, but after 12 days he was pronounced well enough to go home. After two days at home, though, Michele said they readmitted him for several issues, including "elevated c-reactive protein and very critical electrolyte abnormalities."
Hospitalized for five days, the problem was never identified, yet he was released from the hospital with a PIC line (Percutaneous Intravenous Catheter) in place. Michele recalls that Jacob "saw doctors and nurses all but one day" during the time he spent at home. "No one," she said, "could figure out what had caused his medical problems."
On Oct. 8 Michele took Jacob into the OSF emergency room for vomiting. Shortly thereafter, he stopped breathing. Michele said he was "revived but stat blood work revealed that his body was in major distress from extremely abnormal electrolyte abnormalities. While they were stabilizing him, they did a precautionary CT scan of Jacob's brain."
Jacob was transferred to the Pediatric Intensive Care Unit.
"While still in shock from almost losing Jacob and while trying to absorb the fact that no one could figure out what was wrong with him, we were notified that the CT scan showed an acute skull fracture," Michele said.
Dr. Channing Petrak of OSF Pediatric Resource Center interviewed the Weidners about their care of their son. Based on the CT results and the interview, her assessment was, "Jacob has a mildly displaced left occipital skull fracture," and that the fracture was "suspicious for nonaccidental trauma," according to a seven-page "PRC Consult" provided by the Weidners to the Daily Times.
The consult says an MRI on Sept. 22, 2010, found that Jacob had "multiple subdural hemorrhages," and suggests they also "could have been traumatic in nature" and "nonaccidental."
The consult also notes, "Jacob's mother also expressed concern that physicians and specialists would possibly think that she had done something to make Jacob ill."
At this point, representatives from both the Department of Children and Family Services and the Peoria Police Department were in the hospital room asking the Weidners who had injured Jacob.
According to Michele, "The PRC doctor said something like 'someone either dropped your son from a standing position or hit him over the head with a blunt object.'"
DCFS immediately implemented a safety plan that stipulated, "None of the [Weidners'] children will be supervised solely by Michele and/David." That included their newborn son Jacob as well as their two older sons, ages 6 and 4.
The whole family was interviewed. It was upsetting, and especially confusing for their two other sons.
"We, of course, believed them. We thought someone had hammered our son. We were absolutely devastated that he had been injured without our knowledge and absolutely terrified what type of neurological damage would result," recalled Michele, adding that the problem was that "there was no marking, no bruise or any other indication of an injury; nor were his eyes dilated. Also in the seven days prior, he had been to a pediatric neurosurgeon, pediatric philologist and his pediatrician. Surely someone would have noticed something."
Michele insists that almost immediately every doctor involved felt it was not abuse and was, at worst, a birth injury. "They saw no outward signs of injury and they did not believe that we even came close to 'fitting the profile.'"
Michele is a full-time, stay-at-home mother with a master's degree in nonprofit management. Her husband, Dave, is a clinical psychologist with the Federal Bureau of Prisons who also does private-practice work at the Antioch Group.
In calls to the PRC, the Daily Times was told Dr. Petrak was not available for comment.
Meanwhile, the Weidners were in shock. "It literally knocked the breath out of us. There we were with a critically ill 5-week-old baby who had stopped breathing just hours before and we were being told that our child had a significant skull fracture and that we were the prime suspects," Michele said.
As a result, Michele was not allowed to breastfeed Jacob, because Dr. Petrak had recommended "strict intake/output measurement" of Jacob, something impossible to do when breastfeeding. Additionally, Jacob was tested to see if Michele "was taking drugs or giving him drugs."
Michele adds, "It was terrifying because we knew something was terribly wrong with our baby, who was lethargic and failing to thrive, and they were wasting time suspecting us. It was a nightmare."
Seven "excruciating days" later while still at the hospital, the Weidners were allowed to take Jacob home. Due to the "safety plan," family and friends came from as far as Pennsylvania and Wisconsin to take shifts supervising the Weidner's family life.
"We had to ensure someone was always with the boys to supervise us. One night during the hospital stay, I came home for a couple of hours to tuck in the boys for bed. Acutely aware that they could be placed into protective custody at any moment, I just held them and read endless books and hugged and kissed them and prayed with them and tried really hard not to cry. They didn't know what was wrong. They just knew a strange man had come and asked them a lot of weird questions and that I looked really sad and couldn't stop hugging them."
A week later, the Weidners were notified by DCFS and the police that it had been deduced that Jacob's CT finding was a "suture anomaly," meaning an extra cranial plate. The Weidners were then released from the "safety plan" and were apologized to by the investigators.
At this point, the Weidners still didn't know what was causing Jacob's problem. On the advice of another doctor, they took Jacob to Cincinnati Children's Hospital, the third-leading children's hospital in the country. Here doctors examined Jacob's CT images from Oct. 8, turning it into a 3-D reconstruction that they could study to find out what was going on.
"Within one day," Michele said, "they were able to definitely determine that Jacob's skull was completely 100 percent normal with no signs of any fracture, and that OSF's findings were based on the fact that the images showed signs that Jacob's head had been placed in the machine incorrectly and that he had moved during the CT."
According to a report from the Cincinnati Children's Hospital, Department of Radiology, 3333 Burnet Ave., Cincinnati, Ohio, the findings conclude that " the patient (Jacob) has normal, no contrast head. CT. No evidence of skull fracture or intracranial hemorrhage." The report states that "the ventricles and extra-axial spaces are normal in size and configuration. The brain parenchyma attenuation is normal. There is no mass or intracranial hemorrhage."
Also, in a PRC report on Jacob dated Nov. 8, 2010, Dr. Petrak reconsidered her original skull fracture diagnosis, stating, "Without further imaging of the occipital skull, I cannot, with any medical certainty, determine whether Jacob has an occipital skull fracture or a skull anomaly." The first of her recommendations in that report, however, was, "Ensure Jacob's safety."
Back at home and elated with the good news, the Weidners contacted OSF, DCFS and the police to inform them of the final results.
"The DCFS caseworker was immediately apologetic, as was the police detective. They are only as good as the information provided to them," Michele said. "The investigators had trusted the PRC, which never wavered in their opinion that the image was accurate and that the finding was acute and traumatic in nature. Historically DCFS and Peoria police have relied on the PRC for accurate information."
With the worst behind them and only three days before Christmas, the Weidners once again met with DCFS, this time to close the case. "We had to meet (the DCFS caseworker) in a McDonald's parking lot," recalls Michele, "He looked at Jacob, said, 'he looks well' and acted as if it were perfectly fine that he waited 41 days after Cincinnati's determination to finish his report."
DCFS caseworker Mike Mettel would not comment on this case, but referred questions to his supervisor, Megan Steurtevant.
"I can't quote either way whether or not we investigate or not," Steurtevant said during a recent phone conversation. When asked why the caseworker would have to officially meet the Weidners in a McDonald's parking lot in order to close the case, Steurtevant reiterated her original statement: "I can't comment either way whether we had an investigation or not."
According to the official report from the Illinois Department of Children & Family Services of Springfield — which was signed on Jan. 12, 2011, by Linda Everette-Williams, administrator of State Central Register — the "investigation or suspected child abuse or neglect (was) unfounded." The report reads, in part, "After a thorough evaluation, we have determined the report to be 'unfounded.' This means that credible evidence of child abuse or neglect has not been found."
Peoria Police Detective David Nelson agreed. "The case was unfounded as to abuse and it says that in the report."
Jacob has since been diagnosed by his nephrologist, Dr. Alex Alonso, with "pseudohypoaldosteronism," a rare medical condition. Dr. Alonso did not return phone calls but Dr. Al Torres, medical director of the pediatric Critical Care Unit at Children's Hospital of Illinois, who saw Jacob both times he was admitted, did.
"Pseudohypoaldosteronism," according to Torres, is an "uncommon disorder involving an electrolyte imbalance due to the kidney's inability to respond to low aldosterone."
Torres said "pseudohypoaldosteronism is so uncommon" that he had to look it up and research it in order to treat Jacob. "His (Jacob's) case is part of the reason I know so much about it. It's a very uncommon medical condition that can be life-threatening."
Today, Jacob is doing well and his medical condition is under control. He takes medication three times a day and has monthly blood draws. But the impact of false accusations has been "devastating" to not only the Weidners but also their parents.
"Other than that," Michele admits, "Jacob is very healthy and developing on schedule. He is a very easygoing, happy little boy who smiles all the time and makes everyone around him smile, too."
"I still feel pretty shocked and bruised by what we were put through at what was already a very vulnerable time. It is really hard for me to even talk about it," Michele said.
"Many well-meaning people have told us that the system worked and that false allegations are the 'cost of doing business' when it comes to preventing child abuse. I don't think these people realize the impossible situation parents face in this type of situation."
"Contrary to the Constitution, you are guilty until proven innocent and the burden of proof is on the parents, not the investigators. Not everyone has the resources or insurance to pay for the second opinion it takes to prove their innocence. Praise God we were able to fight this accusation, but not everybody could. I'd like to say we didn't despair, but we did. Thankfully we had family, friends and church that had our back and helped prop us up and help us remember that no challenge is too big for God."
Dave admits he's been "paralyzed" by the whole scenario.
"I've heard about these things happening, but it was a surreal moment when it happened to us. To realize that a government agency has the legal authority to come into a law-abiding citizen's home and deem us unsafe to be alone with our kids without a trial or even just a judge is frightening. They take serious actions without double-checking facts, gathering second opinions or even really conducting a true investigation," he said.
Dave added, "The doctors and nurses who actually knew anything about us and knew about the details of Jacob's history treated us with kindness and compassion."
Even so, Dave can't get over the fact that "for two weeks, they took my God-given fatherly rights away from me. I couldn't protect my sons from this threat and couldn't even really speak up to defend myself or my wife. I was keenly aware that any anger or defensiveness on my part would make the situation worse. I felt paralyzed."
According to Dave, their older boys were already having a difficult time coping with the reality that their baby brother was sick. "They needed stability and extra time with us, but instead their world turned upside down. They couldn't understand why so many people were around our house. They didn't know that it was because we couldn't be alone with them. There is no advocate for parents. The system is set up to assume all allegations are true."
"We had to be our own advocate, which is hard when you work a full-time job, have two older kids in school and a very critically ill son in the intensive care unit. My wife was devastated. She was already exhausted from Jacob's two previous hospitalizations, managing two older kids' school schedules and caring for a very sick newborn 24 hours a day. When the investigators and this (PRC) doctor began to treat her with suspicion it was too much to handle. She cried to the point of literally running out of tears."
Dave said he was "numb. I couldn't believe it was happening to us."
"As a clinical psychologist who works with families, this accusation could have greatly damaged my career and prevented me from ever working with kids." He adds, "I want to have hope that this will not happen to others but I believe that it will unless something is changed. We know that the parties involved know there is a problem."
Michele said they want to put this experience behind them but they feel the obligation to share their story so other families don't have to deal with "the same broken system."
For the Weidners, the worst of the nightmare is over. They had good medical, financial and legal resources, including legal counsel from the Family Defense Center in Chicago. But there are others who are accused of abuse and don't have the resources or even family to turn to for support. In fact, Michele points out that another "mom was accused of abuse by OSF the same week we were, and she still does not have custody of her daughter. It's all because of the same … dysfunctional process."
No one can say exactly how prevalent these abuse accusations are. But according to Diane Redleaf, executive director of The Family Defense Center in Chicago, they are "overwhelmed with cases and have few staff … we are inundated with low income cases … we struggle to keep up with demand."
Redleaf did refer the Times to its most recent newsletter, The Family Defender: Advocating for Children & Families Together, Vol. 4, No. 2 … to a story written by Mary Kelly Broderick. In her article, "MPEEC Program Data Shows Innocent Families Are Being Harmed," she states, "I have made multiple Freedom of Information Act requests for information about MPEEC and DCFS investigations." In her story, she further reports that "a stunning 71 percent of the medical conclusions do not find abuse. This is broken down to 44 percent with a conclusion that the trauma was not inflicted and 27 percent of cases where the 'child abuse expert' concludes that they cannot make a conclusion (i.e. 'indeterminate')."
The Weidners said they believe the "system is confusing and sets you up to feel really perplexed." Michele said she felt like Alice in Wonderland, where "everything is upside down and backwards. They all say the opposite of what they mean and no one will state facts. It's like they all stand in a circle and point you to the next guy — pretty soon you are walking in circles."
With the past behind them, Michele wonders about Jacob's future. "If he has to be hospitalized in the future, it will have to be at OSF. We need to be able to trust this hospital again. We need to know they are addressing their weaknesses," said Michele, adding, "The hospital has great new facilities, a big marketing campaign, but to be a great children's hospital you have to take care of families and that has to include conducting timely, thorough, and credible medical investigations and quickly acknowledging when you mess up. They failed us."
When asked for a statement from OSF regarding this story, and asked why a second CT was not taken, Amy Paul, executive director of strategic communication at OSF Saint Francis Medical Center, said, "When a child has an unexplained injury of any sort and is seen in any of our facilities, we are mandated by state law to report the injury to DCFS. DCFS then does its own investigation which we (OSF Saint Francis Medical Center) have no control over. The investigation is not a medical decision; it is a protocol that has been put in place by the state to protect children."
During a conference telephone conversation with both Paul and Shelli Dankoff, media relations specialist OSF Saint Francis Medical Center Children's Hospital of Illinois, both agreed all abuse reports to the DCFS are placed "anonymously."
Citing privacy laws, Paul and Dankoff told the Pekin Times that, "Other than that, we are unable to discuss any specifics of the Weidners' case."
http://medicalmisdiagnosisresearch.wordpress.com/2011/03/19/moving-baby-syndrome/